VOLUME 1 ISSUE 01 NEWSLETTER : MAY 2009
In this Issue:

Caring for an Encaustic Painting
KMFA Gallery News
Special Offer from the Gallery
Art News Clips in the Headlines
. . . . . . . . . . . . . . . . . . . . . . . . . . . . . . . . . . . . . . . . . . . . . . . .
Caring for an Encaustic Painting:
You may be considering or have already purchased a painting that has been made with pigmented beeswax. An increasing number of artists are working with hot beeswax to create interesting 2-D and 3-D pieces of artwork. Some are representational, some are multimedia collage work, and many are abstract. While some photographs and other pieces of art may be "varnished" with clear wax, encaustics only refers to the process of literally painting with hot pigmented beeswax.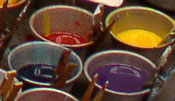 "Encaustic" (from Greek, literally meaning 'to burn in') has a long long history - back to the 5th century B.C. Egyptian days and the word itself refers to the fusing of the paint and wax. It seems to have fallen out of favor and become a lost art around the 12th century but with the invention of modern heating appliances, famous artists such as Jasper Johns and Diego Rivera brought the practice back into the forefront. More recently, there are been a large resurgence of contemporary artists working with wax in their art and several professional art organizations have sprung up to increase the awareness of wax painting as an art form even further.

All art work of any media needs careful care. It is not advisable to put ANY artwork directly in sunlight or highly heated areas, and this is even more true of an encaustic painting. The surface of an encaustic painting *is* wax, which - in most cases - has had a hardening damar agent added to it for additional strength. But it is still a surface that can be easily nicked with a fingernail, or chipped if bumped against a hard surface. It is recommended to handle with a bit more additional loving care. After completion of an encaustic painting there is a curing process of a few months. During this time moisture will work its way to the surface and cause a slight haze. If your painting looks dull, or gets dirty it can be wiped clean with water and buffed (gently, firmly but not overly vigorously) to a high gloss using a soft lint-free cloth such as cotton. This sheen dulls over time and can be brought back by repeating the process. Encaustic paintings do not have to be varnished or protected by glass.

The painting is stable under normal temperatures. Indirect sunlight is perfectly fine. Extreme cold can make the wax more brittle and susceptible to cracking. Again, extreme temperatures are bad for any fine art, not just encaustics. Other inadvisable locations within your house would be any spot near heat sources (such as fireplaces, over the stove in the kitchen, etc). Only direct heat or temperatures in excess of 130 degrees may begin to soften the work. Very hot days can soften the surface very slightly, but will cause no real damage to the painting. Do not leave an encaustic painting in the trunk of your car on a hot day. It can kill pets and babies and it will likely kill your beeswax painting as well. Even with these measures, if the wax on your painting does soften, and/or dulling occurs, move it to a cooler location and wait until the painting has hardened. Then buff it with a soft cloth. Always protect the surface and edges of the encaustic painting when moving it. As already mentioned, although the surface is completely dry, encaustic paintings can be easily scratched, gouged, or chipped if handled roughly. Encaustic paintings are extremely durable due to the fact that beeswax is impervious to moisture. Because of this it will not deteriorate, it will not yellow, and it will not darken.

Encaustic beeswax paintings have amazing translucency, depth, and brilliance. With just a little extra care, you'll be enjoying your piece of beeswax art for ages to come!
© 2009 Kathleen McMahon. All Rights Reserved.
. . . . . . . . . . . . . . . . . . . . . . . . . . . . . . . . . . . . . . . . . . . . . . . .
KMFA Gallery News:
We recently completed a very successful Spring Open Studios (which was occurring across 8 different artist collective buildings in the Mission neighborhood of San Francisco). Both of our featured artists, Margo Mullen and Elizabeth Stahl sold pieces, and other artwork and craft items sold as well over the course of the weekend. Everyone seemed to have a good time and the weather was great. Open Studios ran from Friday night through Sunday, April 24-26.

Margo Mullen has brought in 11 new pieces from her Asilomar and Growing Almond series to see during the month of May and Elizabeth Stahl has brought in new work from her Still Life Fruit series (I call it her melon series but it certainly has more than melons, though I find the melons so luminescent!).

Be sure and stop in to see their new works!
. . . . . . . . . . . . . . . . . . . . . . . . . . . . . . . . . . . . . . . . . . . . . . . .
Special Offer from the Gallery:
This will only be offered to our newsletter subscribers: 25% off any purchase from the gallery, up through Mother's Day, May 10, 2009.
. . . . . . . . . . . . . . . . . . . . . . . . . . . . . . . . . . . . . . . . . . . . . . . .
Art News Clips in the Headlines:
Social Design Initiative at Academy of Art University

Sustaining San Francisco is a multidisciplinary design challenge to focus student energy on this dilemma. Convinced that the power of design can make a difference, Design Ignites Change is partnering with the Academy of Art University Graduate School of Graphic Design to conceive and execute projects around the theme of sustainability that are relevant to the greater San Francisco community. Working alongside other Academy of Art University MFA departments (fashion, industrial design and photography), graphic design students will showcase Bay Area innovations while simultaneously envisioning additional possibilities for a greener future to which we can all aspire. Design Ignites Change is an initiative of Adobe Youth Voices and Worldstudio.

Teens Explore Endurance at Yerba Buena Center for the Arts

Endurance is a trait one must have to get through high school. But that's not the only avenue of life where it's useful. That's the message of a new show at Yerba Buena Center for the Arts in San Francisco called "Through Future Eyes: The Endurance of Humanity." It is an exhibition curated by six San Francisco high school girls who participate in the museum's competitive Young Artists at Work program. The students worked for more than a year to understand how museum exhibits are put together, then went through the process of putting one together themselves. The result is an interesting, varied exhibition that pairs classic artists such as Diego Rivera with some of the most cutting-edge work by Shepard Fairey for a singular message of strength against adversity. Fairey's iconic Obama image is displayed along with heartbreaking sculpture by Chukes and works by Oakland artist Eric Araujo.